---
"Skin can be beautiful as much as you make an effort,
and can be better as often as you look into it."
Board-Certified Dermatologist
Dr. Kang, Seung-Hoon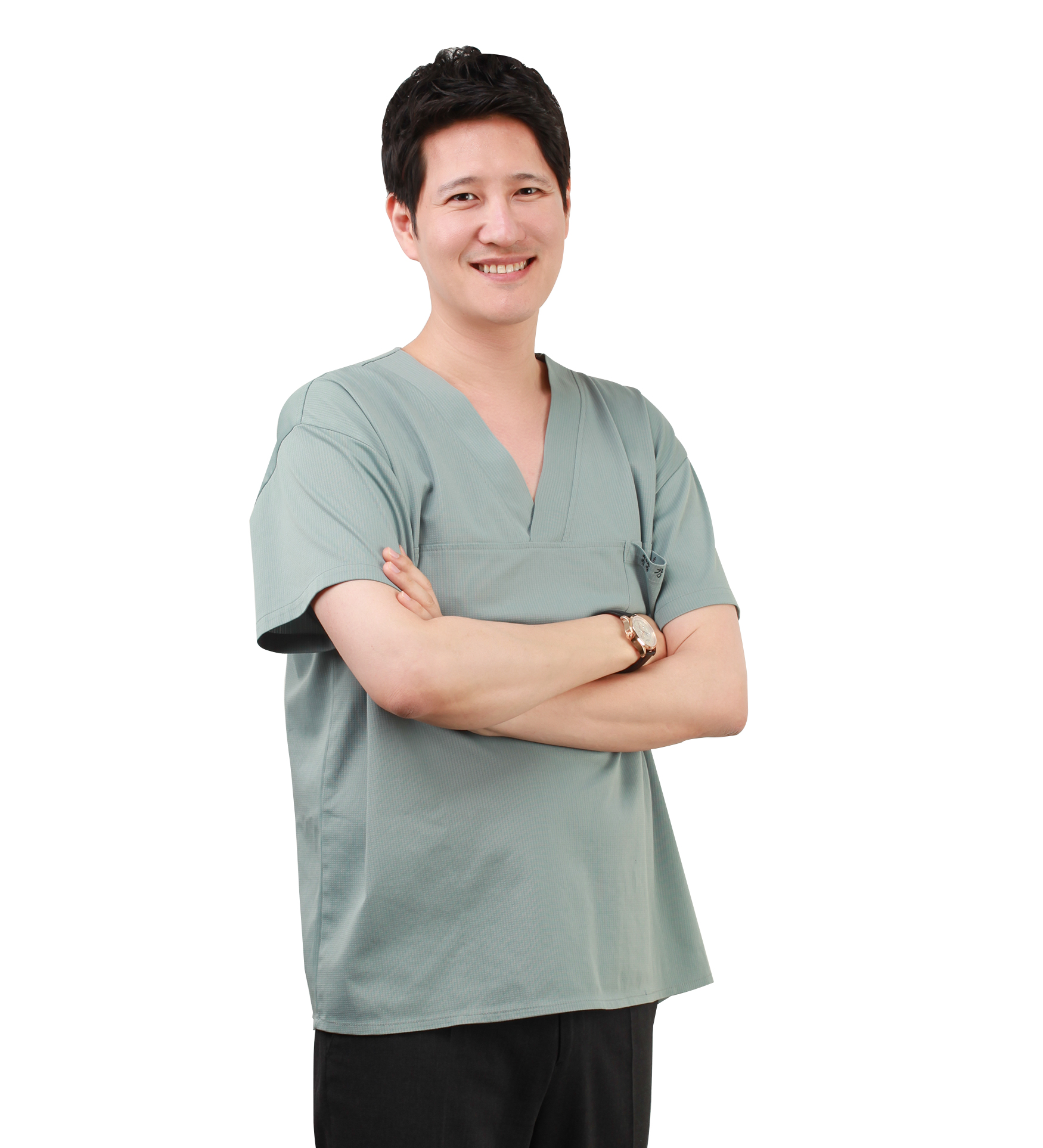 ㆍFormer Clinical Lecturer, Department of Dermatology at Inje University Paik Hospital
ㆍFormer Fellow Doctor, Singapore National Skin Centre
ㆍAcademician, the Association of Korean Dermatologists
ㆍDirector of Education, the Association of Korean Contour Correction
ㆍAcademician, the Korean Association of Anti-aging Medicine
ㆍRegular Member, Korean Dermatological Association
ㆍRegular Member, the Korean Society for Aesthetic and Dermatologic Surgery
ㆍRegular Member, Korean Society for Laser Medicine and Surgery
ㆍRegular Member, American Academy of Dermatology (AAD)
ㆍDermatology Board Certification in Shanghai, China
ㆍCertification in FAMI Basic & Advanced Technique Course
ㆍCertification, Vaser High Def Academy
ㆍCounseling Doctor, Neutrogena Korea
ㆍCounseling Doctor for Laroche-Posay, L'oreal Korea
ㆍClinical Counseling Doctor, Handok (Pharmaceutical Company
ㆍMedical Advisor, Health Media of Korea Joong-Ang Daily
ㆍOfficial Advisor, BIH Cosmetics
ㆍOfficial Advisor, International Global Beauty
Special Know-how of Four Seasons Skin Clinic
| 01 |


Board-Certified Dermatologist specialized in Face &Body Contouring
Four Seasons Skin Clinic is dedicated to complete the surgical procedure
with a very natural face and a flowing and elegant bodyline through a safe
and customized surgical procedure based on over 10 years' surgery know-how.
| 02 |


Exertive Clinic for Continuing Research

Four Seasons Skin Clinic exchanges continuing researches and
the latest medical technology by attending eminent domestic and
foreign medical symposia or conferences & events.
Dr. Kang, Seung-Hoon, a clinical director and dermatologist,
educates current plastic su-rgeons and dermatologists about
his surgical procedure know-how by giving lectures and showing live surgical procedures.

| 03 |


Thread-Lift Specialty Clinic for Domestic and Foreign Specialists

Four Seasons Skin Clinic is specialized in thread-lifting plastic surgery and does
continuing researches in face lifting and academic activities. Dr. Kang's Triple lock
thread lift technology has been acknowledged by media, and it is so popular among
domestic and foreign specialists as to learn it, since it leads to an outstanding surgical result.
| 04 |


Korea-first Leading Clinic in introducing PRP Filler and Academic Clinic

There aren't many clinics where practice a PRP filler therapy which compensates
good and bad aspects of fat transplantation and general filler procedures.
The reason is it is necessary to achieve surgical procedure know-hows to
produce satisfactory outcomes.
| 05 |


Accredited Clinic in Fat Transplantation & Body Plastic Surgery

Four Seasons Skin Clinic has been chosen as an accredited clinic in fat transplantation
and an academic clinic based on the fact that it has practiced over 4,000 surgical
procedures last 11 years and also chosen as an accredited clinic in Zeltiq and
Hi-def Vaser through lots of lectures, researches and
academic activities as an accredited clinic in body plastic surgery.
FAMI Fat-transfer Procedure
【natural and refined appearance after FAMI fat-transfer 】

Four Seasons Skin Clinic has been showing a fat-transfer procedure that has high
survival rates and minimal side effects of fat grafting in order to produce a natural
and smooth facial line.
FAMI Fat-transfer Procedure doesn't cause any bruises or swellings, since it is
injected as required, shows instant natural effects, and allows to resume normal
activities after 3~4 days. It is a rule to do just a one time touch up session
when it comes to FAMI Fat-transfer Procedure.
A special feature of the FAMI fat-transfer procedure that contours a natural and
smooth face shape is a FAMI technique that enables fat, which was injected into
your face in the beginning of the procedure, to be kept long lasting and makes it
possible to measure the accurate extent of the correction for face contouring,
since it can guess the extent of the correction right after procedure.
Thread-Lift
【outstanding effect for V-line】

Four Seasons Skin Clinic's 'Triple lock thread-lift' doesn't insist on using only special brands,
or special function of threads, we have and use all kinds of threads in Korea and consider the surgical
know-how very important, since it is more important to know where and how each thread is used
for face lifting rather than the kind or quantity of the threads.
Triple lock thread lifting procedure, which is different from the traditional face lifting procedure
that uses only one kind of thread, produces a flowing and refined line through synergistic effect
by using a cogged and an absorbable thread. Skin regeneration and elasticity can be expected
through an immediate effect and a surprising long lasting power.
It is a representative young face procedure that gives you an experience of having a naturally
collagen filled effect over time through formation of collagen layer and pore reduction
especially by using a collagen stimulating thread.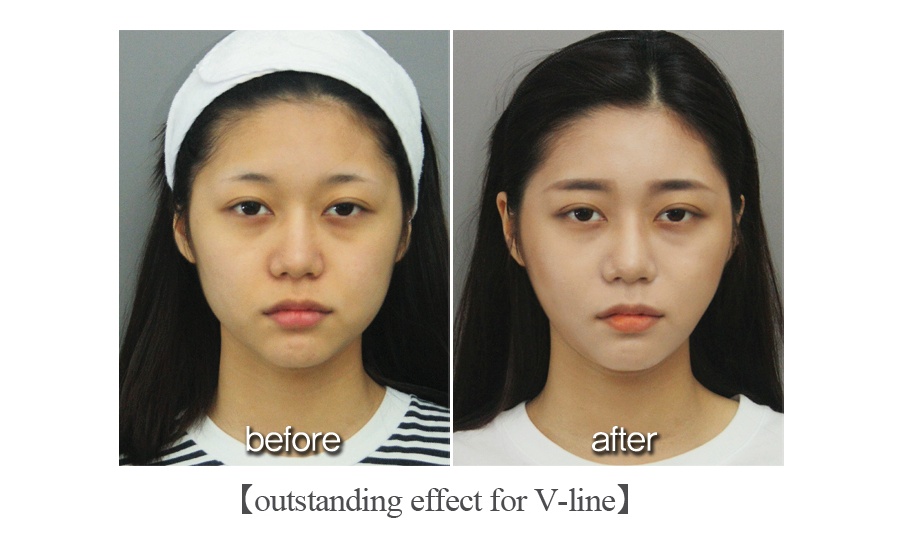 Body Contouring
【clear and natural Ab muscles line】
Four Seasons Skin Clinic's liposuction is a method of dissolving
only fat in the fat layer by using a Vaser Hi-Def Ultrasound.
Therefore, the effect is maximized and the silhouette is well defined.
A body contouring using a Vaser Hi-Def Ultrasound can express a sense of
three dimensions and delicate muscles with elasticity compared to the other classical
abdominal wall reconstructions, since it melts only unnecessary fat.
Four seasons Skin Clinic has performed the the first scar free surgical procedure in Korea
which has the merit of quick recovery, since it doesn't leave much pain or swellings.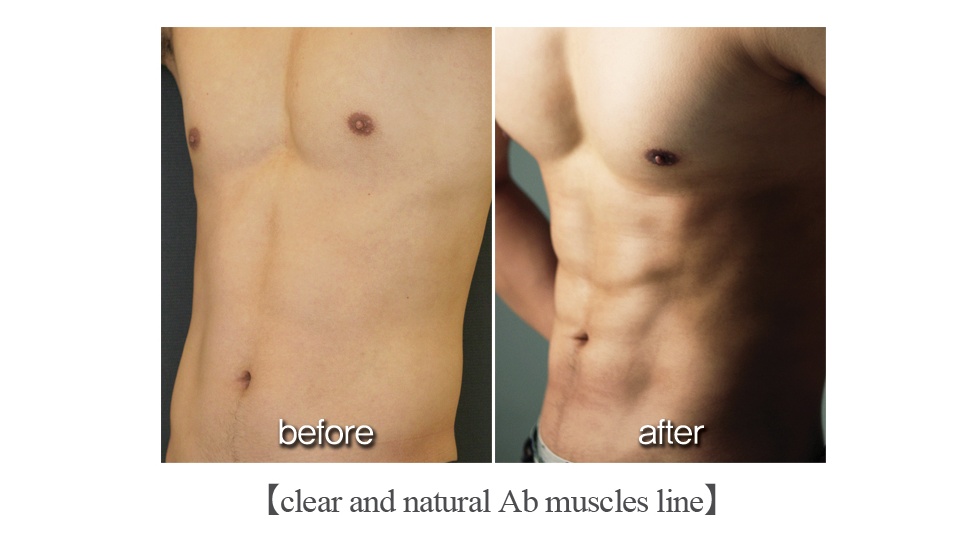 PRP (Platelet-Rich Plasma) Filler Therapy
【Improved Nasolabial Fold over Time 】
Four Seasons Skin Clinic's PRP Filler therapy is a skin resurfacing procedure that fills up some
parts where should be volumized by using patient's own blood just like fat grating or an
existing filler therapy and improves the condition of skin lightening, elasticity, skin tone, aging,
pore, and scars apart from volume and wrinkles simultaneously, since it contains PRP.
Four Seasons Skin Clinic has been a leading clinic that first introduced PRP Filler into Korea
and educates PRP Filler therapy at present. Four Seasons Skin Clinic's PRP Filler procedure
reflected Dr. Kang's know-how through continuous research and academic activities has been
taken center stage, since it doesn't cause any bruises and swellings. The outcomes can differ
depends on who performs the procedure.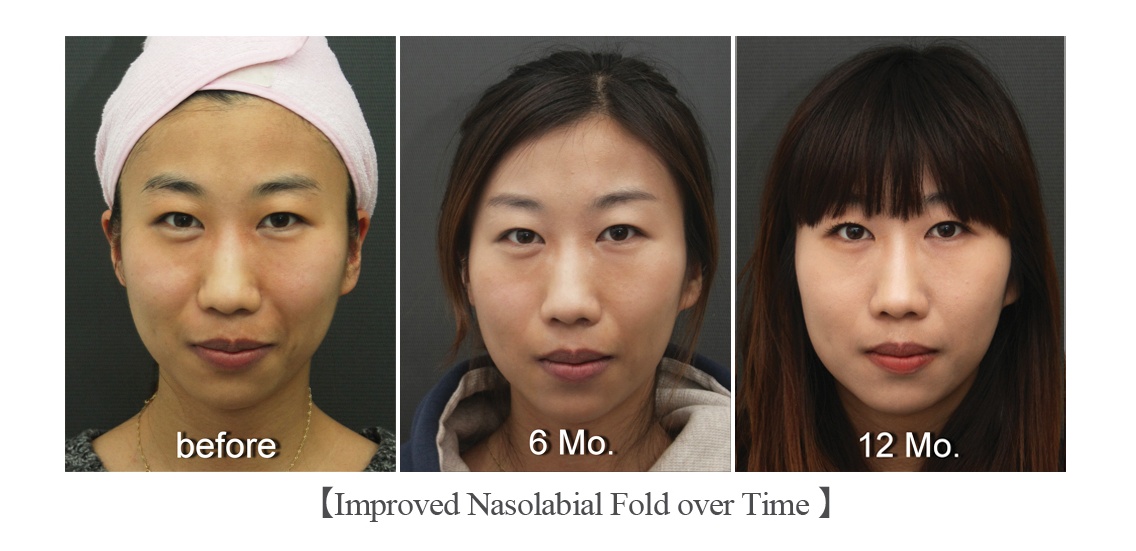 Academic Activities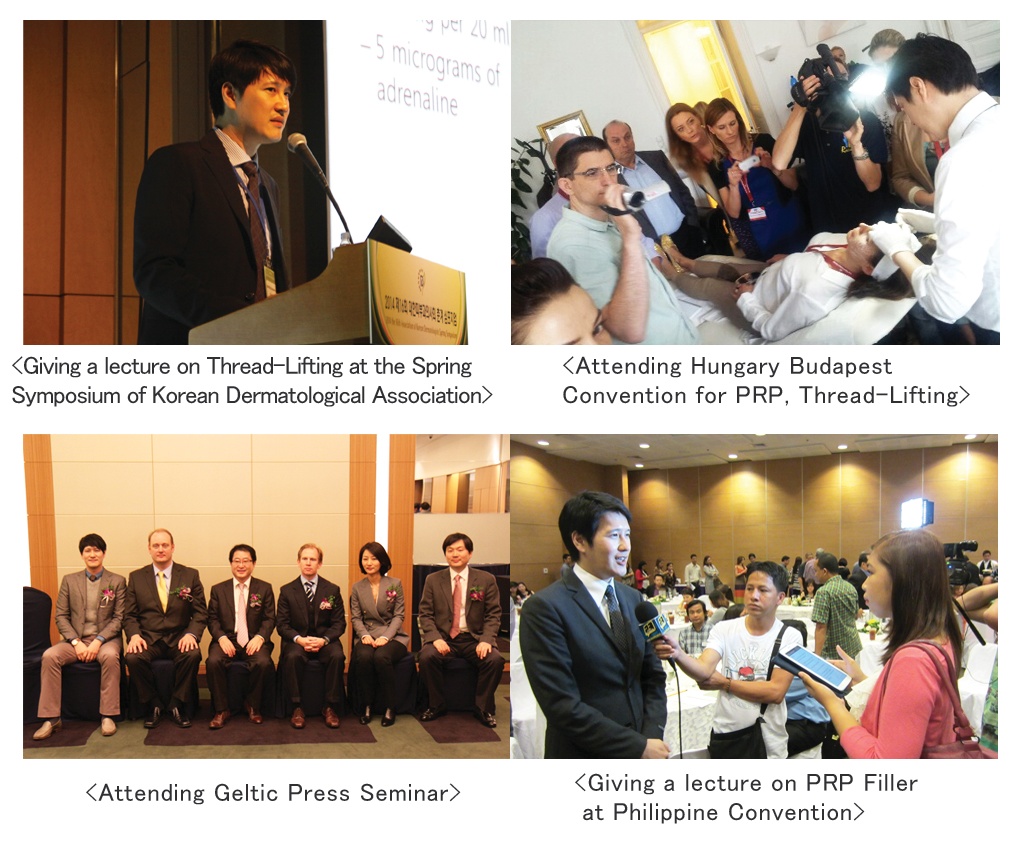 ㆍCounseling Doctor , Neutrogena Korea
ㆍCounseling Doctor for Laroche-Posay, L'oreal Korea
ㆍClinical Counseling Doctor, Handok (Pharmaceutical Company in Korea)
ㆍMedical Advisor, Hugel Pharma
ㆍClinical Advisor, JW Pharmaceutical Company
ㆍMedical Advisor, Health Media of Korea JoongAng Daily


Media & Press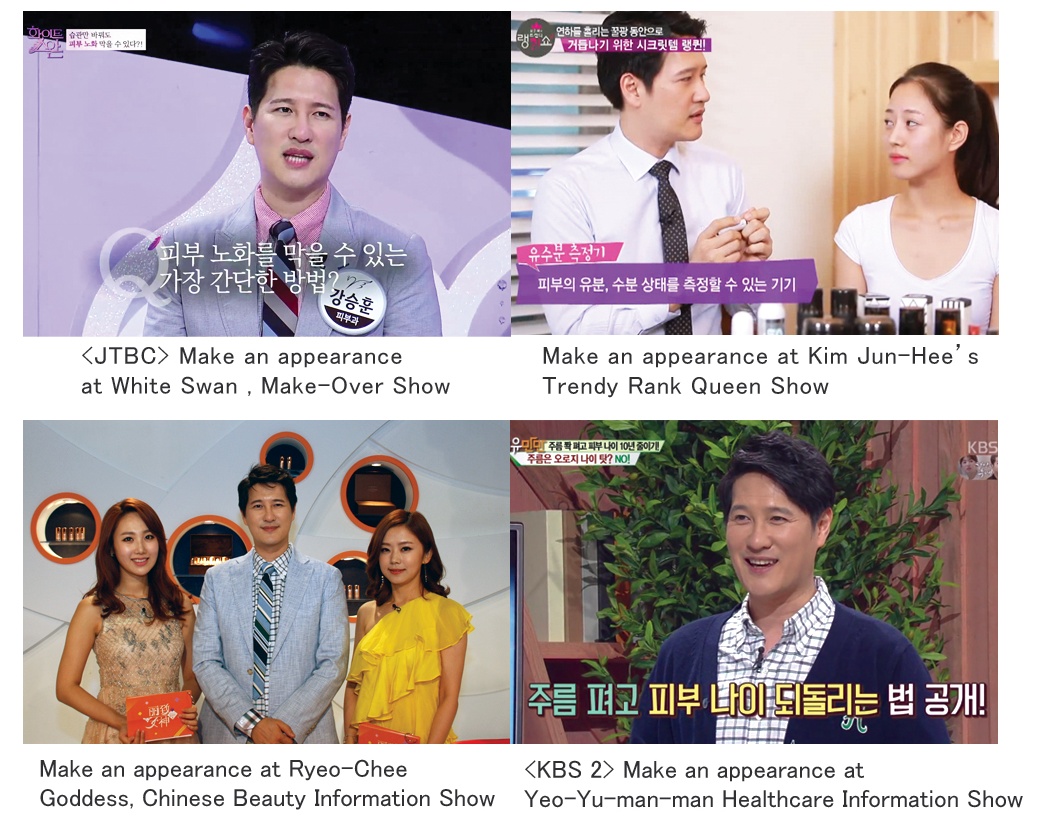 Directions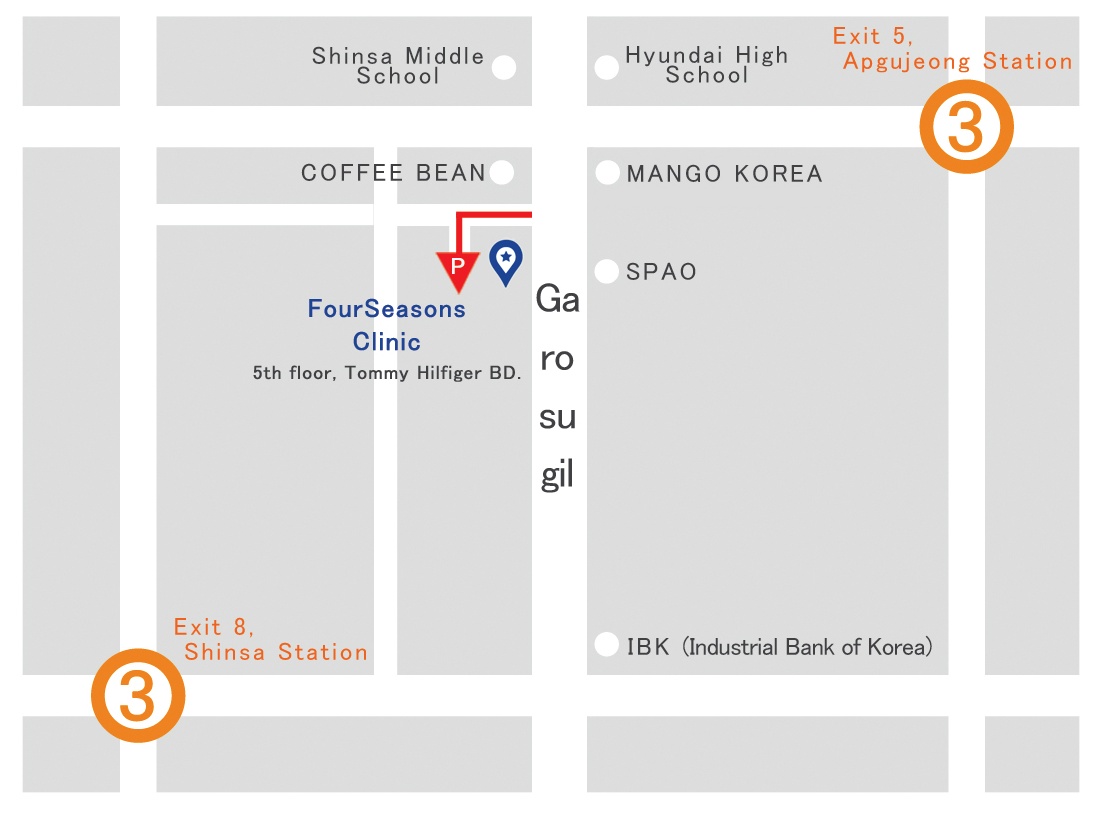 Address : 5th floor, Lead BD. 532-12, Shinsa-dong, Kangnam-gu
(Parking is available at the back of the building)
By Car
Directions to Garosugil from the intersection of Eulji Hospital

Turn left at the end of Garosugil, and turn left again between Tommy Hilfiger and Coffee Bean.
Directions to Garosugul from Apgujung Subway Station

Turn left in front of Hynun-Dai High School and turn right onto the one-way street right away.
Medical Service Hours
ㆍMon. Tue. Thr. Fri. AM 10:00 – PM 7:00
ㆍWed. AM 10:00 – PM 8:00
ㆍSat. AM 10:00 – PM 4:00
ㆍSun. & Holidays are closed
Consulting & Contact
TEL
+82 2. 546. 1112
Mobile & WhatApp
+82 10. 3050. 5461